Because Of You
Throughout the years and journey of LPS, there have been many artists that have placed their visions and art to make us build a wonderful portfolio. In this Series of "Artiste Visionaries", we have asked many curators to share a few of their stories by answering a few LPS questionnaires.
---
Julia -KEW GARDEN FLOWERS
Julia, who is one of the pioneers of KEW Garden Flowers,  its shop provided a variety of premium floral design services based in HK and London.
Apart from the retail shop in Causeway Bay, they also have a Studio to hold a workshop regularly.
Besides, Julia's shop will participle the collaboration with magazine publishers and celebrities such as ELLE HK currently.
Julia's shop also has much floral design like handmade hydrangea earrings design, event decorates design, bouquet design. The picture one is Julia's design for LPS at Christmas.
What was the first impression you had when you heard of Le Petit Salon?
It should be size matters. When I go to buy a coffee at Le Petit Salon, you guys have two coffee sizes (small 8oz, big 12oz) and only one size for a cold drink (16oz).  Compare to another coffee shop like Starbuck, your provider is smaller than usual. And the cold brew was gorgeous, just pour in a 12oz  square cylinder glass bottle and sell it, looks awesome.
What was the most memorable piece of art you are most proud of at LPS?
No doubt for it is the X' mas wreaths!! (Picture one) Because that is one of my proud work. As you may know that some of the branches are setting at the alley and a tiny workplace, it is difficult to decorate the festival feels.  Therefore, I design some unique designs to bring them out (X' mas feeling).
What was on your mind at the time and what coffee were you drinking?
It must be the Gingerbread Latte. I couldn't help but wonder how much I'd gonna miss Christmas because of these seasonal drinks!! At Western, gingerbread is one of the traditional Christmas food, and your staff create the gingerbread syrup and add on the latte. It made me remind the situation when I worked in London (another branch of KEW garden flowers) at Christmas. Because again cold winter thought of that drink heart can warm.
---
Kio- ITS.KIO (Humbled Cards)
Kio is a Filipino girl, who comes to Hong Kong at the age of 16. She got Hong Kong's education scholar in September and come to Hong Kong with her parents 6 year ago. In Hong Kong, the scholar of education is very hard to get it because need to meet up all the requirements, if you failed one, you can't get it. Moreover, her parents gave her much pressure, it makes her very stressed and anxious.
She found a way to calm her stress by drawing (literature and visual art) and reading. One day, she passes by Le Petit Salon and try her first coffee with her friend, meanwhile, sparked her imagination at her mind.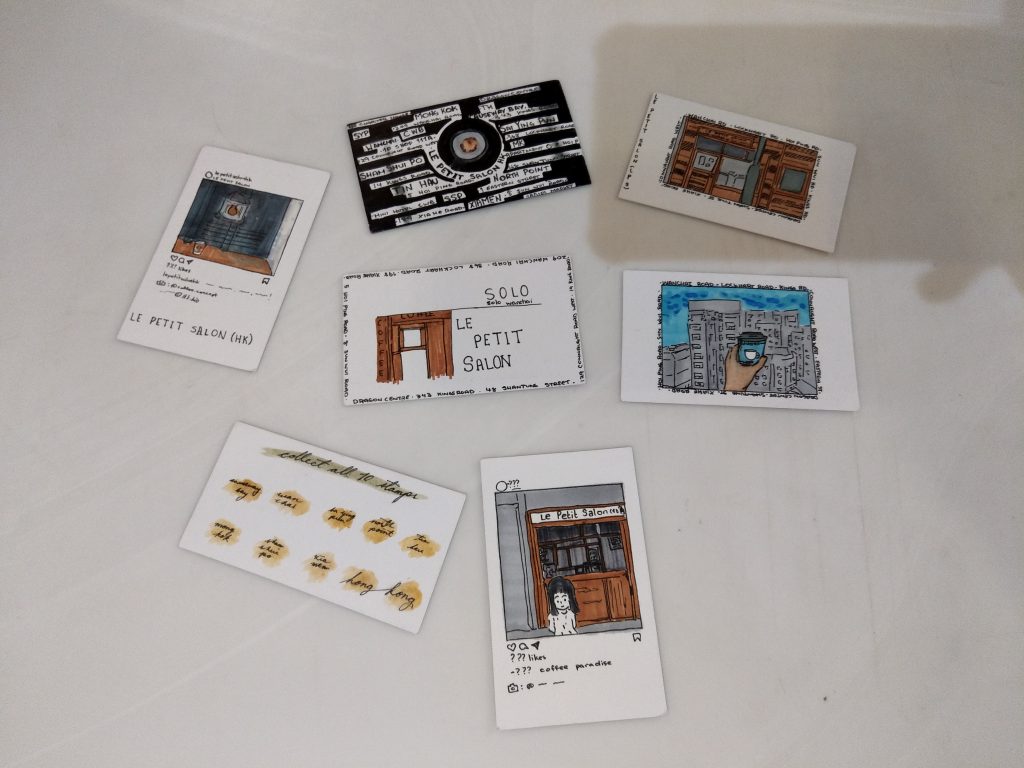 "An artist must be open to the muse. The greater the artist, the more he is open t'cosmic currents' he has to behave as he does"
Last Words: The Final Journals of William S.Burroughs by William S. Burroughs
"It was something that helped me to open myself up to the world" – Kio
What was the first impression you had when you heard of Le Petit Salon?
I thought LPS is a hair salon and feel confused that why my friend wants to bring me there. After arrived, I found that was a coffee shop and their shop name is French, which means "a small living room".  Also, I was impressed by the size of the shop was different than other coffee shops!! It should be the smallest coffee shop I saw ever.
What was the most memorable piece of art you are most pround of at LPS?
It should be the first card I designed for LPS, actually it wasn't a card, it's a small sketch of the place of picture which I saw on your Instagram story.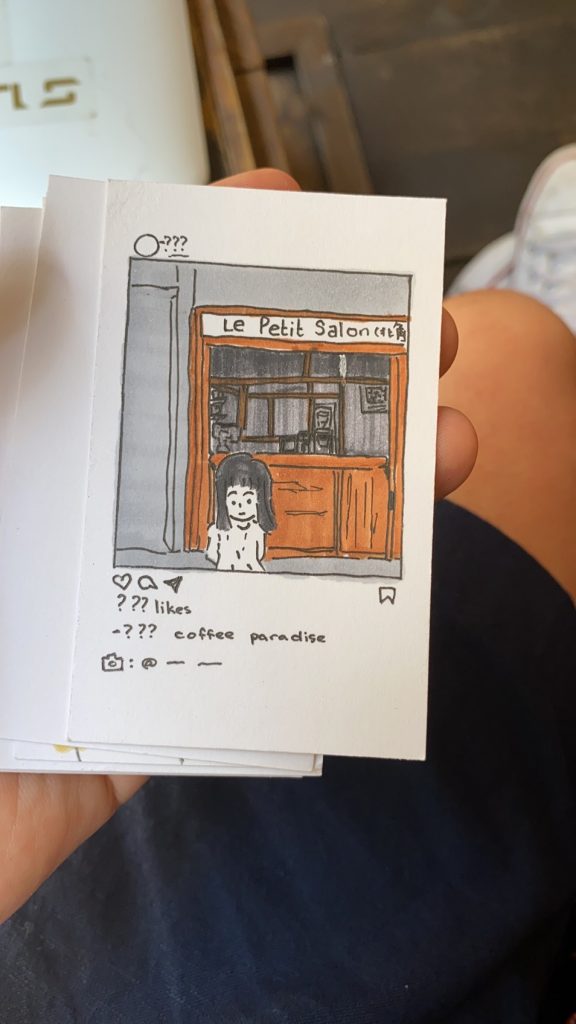 What was on your mind at the time and what coffee were you are drinking?
Pour Over
, the first coffee I drank in Lockheart Road shop with my friend at summer 2019. This coffee was the staff recommendation for me because I told him I didn't know what is coffee and want to try how the taste is.  It was awesome and I love it. It made me unforgettable
.
What sparks your visions and drive to keep creating?
It was stressful as a millennial under the education in Hong Kong, like get into hell. But sketching can keep my mind feel relaxed, comfortable, and get the stress away.
"When you let your imaginations flow, your free and you forget about the reality at that state of creativity would be creating" – Kio
---
TO BE CONTINUED…